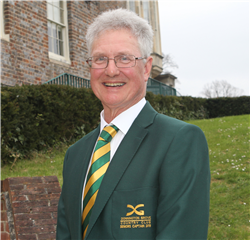 Men's Seniors Captain, Ian Gaskell
A warm and hearty welcome to all members eligible to play Seniors golf in 2019/20 from the men's Seniors Captain, Ian Gaskell
You qualify as a senior if you are male and 55 years or older. We have a flourishing and enthusiastic Seniors section involving over 60 active participants which covers the range of typical golfing requirements, from occasional and more social through to the genuinely competitive.
All men's senior activities are organised during weekdays and a good place to start for new members is to join one of the Club Roll-Ups, which predominantly involve Seniors, held on Tuesday and Thursday mornings or the newly initiated Seniors Roll-Up to be held at 8.00am on Mondays from April 2019. You will be made very welcome and these will provide you with an easy entry into the Seniors Group.
The club also runs a fun nine-hole Champagne Roll-Up on Friday afternoon and evening to which all Seniors are made very welcome.
Over the course of the year, we have at least 50 matches against other clubs, both friendly and in leagues. Many of these are home and away and although obviously competitive they are there to be enjoyed as good social occasions in themselves. All you need is an active handicap and to make yourself available. In the summer and winter leagues and cup, we are keen to compete and hopefully win. We are currently the Summer League winners and have won the Winter League in the past.
We run a number of weekday competitions for Seniors (including matchplay knockout and a season long stableford competition) to complement the more formal competitions run by the club for all members. On behalf of the club we also run a fun day of golf called TOGS each month where teams will be chosen on the day and compete using a variety of competition formats. We hold three mini-tours during the year, including an annual three days on the Isle of Wight, which are always well subscribed and great fun.
We reckon that we have a really great group which provides good fellowship and sometimes initiates great golf! We are very keen to have a steady influx of new blood – so please get involved. To register your interest in any of the above activities please contact me by e-mail at dgseniorscaptain@gmail.com I will then ensure that you are included in the TOGS and Active Seniors mailing lists and add your name to the availability chart for matches. The availability chart can be accessed through the "use google sheets link below".
Remember all standards and states of swing and mind will be made most welcome!
Have fun and enjoy your golf.
Ian Gaskell