Donnington grove CHRISTMAS BALL
Saturday 11th December 2021 19:00 - Midnight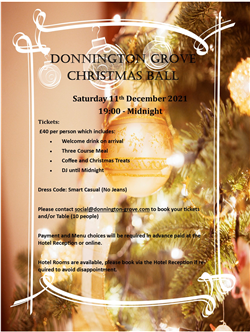 Tickets:
£40 per person which includes:

• Welcome drink on arrival
• Three Course Meal
• Coffee and Christmas Treats
• DJ until Midnight

Dress Code: Smart Casual (No Jeans)

Please contact social@donnington-grove.com to book your tickets and/or
Table (10 people)

Payment and Menu choices will be required in advance paid at the Hotel Reception or online.

Hotel Rooms are available, please book via the Hotel Reception if required to avoid disappointment.


Donnington Diners 2021
Do you enjoy good food & great company in a relaxed atmosphere?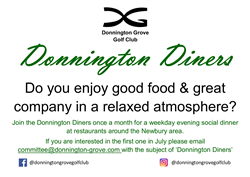 Join the Donnington Diners once a month for a weekday evening social dinner at restaurants around the Newbury area.

If you are interested in the first one in July please email social@donnington-grove.com with the subject of 'Donnington Diners'

DG Christmas Party 2019
Donnington Grove members came together for their annual Christmas Party on Saturday evening.

Over 100 guests enjoyed a welcome drink, followed by a festive 3 course dinner in the marquee.

A quick round of "Heads and Tails " resulted in £150 being raised for the Captain's Charity, The Rosemary Appeal. Thank you to all who contributed and well done to the winner who took home two bottles of champagne.

Many thanks to Kim Richardson for the Rosemary Appeal with her "Guess the number of marshmallows in the snowman" Kim also kindly donated a fine hamper for the closest number won by Ian Gaskell the winning quantity was 406. (Ian your hamper is in the pro-shop waiting for you)

Shakey's Disco was very popular, as always, and the music struck a chord with the membership resulting in a packed dance floor.

The evening passed all too quickly and our thanks must go to Nigel and Kat for organising the evening on our behalf. A huge amount of background work goes into ensuring that these events run smoothly; thanks to Jo and her team for the preparation of the beautiful fairy lit marquee and in attending to all our requests during the evening and lastly a huge thank you to Simon and his team for all the hard work in preparing such a beautiful meal.

The evening was a resounding success.

Make sure you keep the date free for next year 12 Dec 2020 !