Anne-Marie Gane
Ladies Captain 2019/20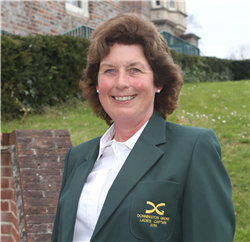 Ladies xmas lunch
The Ladies Section enjoyed their Christmas get together on
Monday.
Dressed in their Christmas jumpers, 36 members came together to play in a 9 hole Christmas "Waltz" Competition, followed by lunch in the Cloudy room.
My thanks to Kat, Simon and Jo for all their organisation; the tables were beautifully decorated and the food was delicious.
This year, the "Secret Santa" gift was a voluntary cash contribution to the charity. The Ladies were very generous and £325 was raised for the Rosemary Appeal.
My thanks to Santa, the Elf, Rudolph and the Christmas Fairy who took time out of their official duties to dispense mulled wine and mince pies to the players on the course.
Prize winners
Nearest the Pin
Holes 5 and 6 Kim Richardson
Hole 7 Jan Williams
3rd Team Place - Sandy MacDougall, Julie Myall, Anne Macdonald
2nd Team Place - Sue Hill, Kim Richardson, Deb Weddell

1st Team Place - Anne-Marie Gane, Maria Tillett, Angela Hay

High Silver League Winners 2019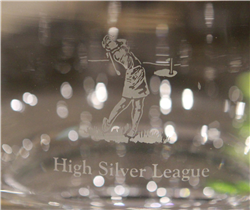 Undefeated Donnington Grove Ladies Team were rewarded with the title High Silver League Winners 2019 at a presentation lunch held at Basingstoke GC on Thursday.

This was a truly fantastic team effort showing off the depth of talent at the club. Led by Captain Fay Unsworth, the team did not lose a match in the keenly contested annual competition which is played over the Spring and Autumn months against teams from Newbury and Crookham, Donnington Valley, Basingstoke, Sandford Springs, Marlborough and Mapeldurham golf clubs.

The nature of the competition meant that the team could not relax until the final putt in the final match was holed, so concentration and nerves of steel were the order of the day to ensure DG came top of the leader board.

Team:- Fay Unsworth (Captain), Kim Richardson, Gill Lane, Julie Myall, Katherine Hartwell, Jan King, Shey Walder, Maria Tillett, Jules Culley, Lorraine Storey, Anne-Marie Gane


Ladies Match V Drayton Park Thursday 12 September
We welcomed the friendly ladies from Drayton Park to play us on Thursday in our last match of the season.
It was a beautiful day and the matches were close. So close in fact, that one match was just lost on the last putt on the 18th green.

Congratulations and thanks to Drayton for a great day and on winning 2 ½ - 1 ½. We look forward to next year!

My thanks, as always, to the DG team who always play with great spirit and enthusiasm - Fay, Gill, Kim, Ann L, Deb, Sue F, Julie and Shelagh.

Updates for the Ladies
Ladies v Sandford Springs Monday 19th August
Thank you to all those who played away @ Sandford Springs on Monday . Although the score was 3-1 against us, the matches were closely fought, and the team were entertained to great hospitality and a delicious meal which went in part, to making up for the awful weather which soaked everyone to the skin.


Ladies v Studley Wood Thursday 29th August
Donnington Grove travelled to Studley Wood on a beautiful sunny day and saw the course at its best. Despite some close games, we were pleased to win the match by 2 ½ - 1 ½ .
We were entertained to a delicious post-match tea and we look forward to welcoming Studley Wood to DG next summer.
Thank you to all those who represented the club today.

Ladies v Hennerton Thursday 5th September
We welcomed the Ladies from Hennerton to play us at home. The day was breezy with trolleys getting blown over; the course was in excellent condition and the match was played in good spirit and was great fun.
The result of a 2-2 draw demonstrates the even and close standard of play. Well done and thank you to Kim, Fay , Gill, Sue F, Deb, Maggie, Sally and Sandy for representing DG.

Congratulations to the following over the last few weeks

Sarah Jolley who paired up with Tom Fleming to play at Calcot GC in the Professional & Ladies Foursomes. This competition has been running for 74 years and is the second oldest competition of its kind in Great Britain. Sarah and Tom were placed 2nd by only 1 shot. An excellent outcome.

Kim Richardson and Sian Soanes (West Berks) were the worthy winners of the West Berkshire Ladies Open winning with a magnificent 44 points.

Gill Lane and Jan King who came in as winners with 40 points in the Studley Wood Ladies Open – for the second year running! Gill was also the winner of the Nearest the Pin prize.

Also to Congratulations to Sue Foote who won the Professional Trophy Ladies today with 34 points. She achieved 1 birdie and 2 pars beating Ann Macdonald by 3 points.

Mixed Match 4th August 2019
Hennerton Away
A lovely day on a very pretty golf course saw the following DG players

Ali Lillywhite Steve Lillywhite
Fay Unsworth Paul Seymour
Maria Tillett Roger Tillett
Ann Lawson Dave Lawson
Shelagh Lancaster Barry Lancaster
Maggie Smith Mike Smith

With a very nice meal afterwards and some good company DG came out victors 3.5 - 2.5

Well done Alison for winning your first team match away and leading the team to victory as captain.

Mixed Match v The Springs
3rd Mixed Match of 2019 at home against The Springs
The springs can to visit us on Sunday 16th June

4 teams from each side resulting in a 3-1 win for DG

Breakfast was as always very good.

DG players were :
A-M Gane / S. Byfield
M. Tillett / R. Tillett
K. Mohindra / S. Mohindra
A. Lillywhite / S. Lillywhite

Thank you all for today and well played.

Ladies Invitation Day 13th June.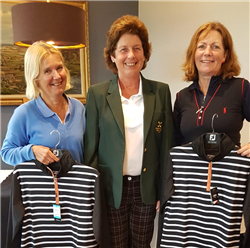 Donnington Grove welcomed guests from other clubs to join in with a 4 BBB stableford competition. The weather was challenging with constant rain and a stiff breeze but the warmth of friendship ensured a good day was had by all.
The winners were Fay Unsworth ( DG) and Alison Blackmore ( Newbury and Crookham GC) with 35 points.
Runner's up were Sandy MacDougall (DG) and Louisa Wills ( Walton Heath GC) with 34 points.
Nearest the Pin on 7th hole Louisa Wills and on the 15th Gill Lane ( DG).
Ladies Match v The Springs
Monday 20th May Ladies Match v The Springs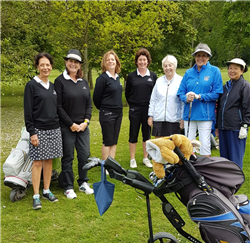 On Monday 20th May Anne-Marie Gane, Shelagh Lancaster, Fay Unsworth, Maggie Smith, Gill Lane, Krishna Mohindra, Deb Weddell and Sue Foote played in a home match v The Springs.

The company was delightful with many ladies reconnecting with old friends.

The course was quite busy but moved along at a reasonable pace which clearly suited us, as all four DG pairs won their matches.

DG won 4-0. Well done to the team!

Mixed Match v Studley Wood.
2nd Mixed Match of 2019 away at Studley
Mixed Match v Studley Wood.
Despite their best efforts in brilliant sunshine on Sunday afternoon, the Mixed Team were beaten into second place by Studley Wood playing at home on their own course. It was a delightful day with good company, exciting golf and a well-deserved, delicious roast dinner after play.
Thank you to Rob Carvill, Anne-Marie Gane, Fay Unsworth, Alan Weddell, Gill and Tom Lane, Maria and Roger Tillett, Maggie and Mike Smith, Ali and Steve Lillywhite for playing.
We'll get them next time!
Result DG Lost 1 ½ - 4 1/2

Mixed Match V Sandford Springs
1st Mixed Match of 2019
The first Mixed Match of the season was played on Bank Holiday Sunday against Sandford Springs GC - DG won by 4 ½ - 1 ½ . Congratulations to Dave Warwick, Anne-Marie Gane, Fay Unsworth, Sandy Byfield, Maggie and Mike Smith, Deb and Alan Weddell, Kim Richardson, Roger Rapley, Sue Foote and Andrew Woodley. All the couples found their games to be very close and enjoyed a friendly but competitive match followed by a delicious meal in Beau's Restaurant.
Well done everyone on the win
Hopefully the first of many!
Annodata Ladies 2nd round match at Calcot
The following team of Ladies went to Calcot

Kim Richardson
Fay Unsworth
Gill Lane
Anne-Marie Gane
Sarah Jolly

Finishing up winners with a great win 3:2
Well played everyone and on to the next round
Ladies Away Match v West Berkshire GC
News
Ladies Away Match v West Berkshire GC on Monday 1st April.
Our Ladies Team had a closely fought match against West Berkshire GC in their first game of the summer season. The course was in splendid condition and the weather sunny and hot. It was lovely to meet friends old and new from West Berks and a good day was had by all. Donnington Grove won 2 ½ - 1 ½.

Lady Captain's Drive Out
Lady Captain's Drive Out. Saturday 30th March.
The Ladies section enjoyed a fun filled day dressed as characters from "A Mad Hatter's Tea Party" whilst honouring Captain Kim Richardson's last day in office.
A 9 hole Competition was played in beautiful weather followed by a meal and presentation of a card and gifts to Kim from the Ladies Section.


Calander for Inter Cub Matches 2019
Matches For 2019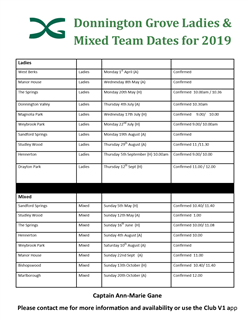 To Join the squad use the club V1 app and go to the teams section.
Or use the Members Hub link on top right of web site "Members Hub"
Kims Last Report
39 – Ladies Golf Report 24.3.18

As this is my last golf report to you all ladies, I would like to thank you all for contributing to so many fantastic memories created over the last year. I have enjoyed my year as your Lady Captain and whilst I genuinely will miss the committee meetings, organising matches and fund raising events, I am equally looking forward to handing over to the very capable Anne-Marie to enjoy some time with Mark and a few holidays and hopefully a lot more golf. Thank you to the Committee, Tom, Amy and the usual suspects who were always there to lend a hand helping with raffles, matches and secret squirrel stuff etc, you know who you are. I am proud to say I have been the Lady Captain of a wonderful friendly group of women.

Our AGM was held last Wednesday and as there were only about 25 members there including the committee, I take that as a positive that no one had any issues to raise.

I will include my report at the end of this but it will also be published on the website.

The High Silver League this week was played at Basingstoke Golf Course, well done to Gill and Anne-Marie, Shey and Jules, Julie and myself for winning all the matches, obtaining a maximum 7 points, we now lead the table by 2 points to Marlborough, one more match next Thursday at Sandford Springs against the Valley before the final 3 matches commence in the Autumn.

The Bronze League had a successful last game against Bradfield College on Friday, Annie Mac and Sue K won 3/1 Jan & Dee won 4/3 and Anne Lawson and Maggie won on the 17th so a great 6 Points. It looks like the Valley will have won the division with DG possibly finishing in 2nd place but will know more when the results are put on the website. Thank you, Sue for coordinating the team.

Anne-Marie's first match as your Lady Captain will be played at West Berkshire on the 1st of April, good luck to the team.

The Competition season is starting to warm up nicely with the Captains Drive in fast approaching on the 6th April, don't forget to sign up if you have not already done so.

The Monthly Medal is on the 13th April
St Georges Day Pairs Betterball is on the 21st April (Easter Sunday)
The Japan Cup is on the 27th April.
Booking for all these comps closes the day before the event at 12.00pm.

Well done to Maria for your fantastic run in the Reading Half Marathon last week, to celebrate your birthday.

Kim

Kim Richardson Donnington Grove Golf Club Ladies Captain 2018

38- Ladies Golf Report 10.3.19
Good Evening Ladies

I would like to welcome two new lady members who have recently joined DG from West Berkshire, along with their husbands. Shelagh Lancaster and Deborah Weddell, we will all look forward to meeting you on the course or in the club house, please do not be shy, we are a friendly bunch. Do join in with the roll ups on Monday and Wednesday mornings, the regular ladies will make you more than welcome, or alternatively message any one of us and we can arrange a friendly match with you.

Sadly Fay and Gill were knocked out in the first round of the Daily Mail competition at Sandford Springs on Friday. Maybe next year ladies.

The HSL team won all their matches on Thursday at the Valley, whilst we have the same amount of points as the Valley and Marlborough we have a massive lead with the number of holes up, leading by 15. Well done to Gill and Anne-Marie for a great score winning by nine holes on Thursday.

The Berkshire County Ladies Golf Association AGM will be held at Goring and Streatley next Wednesday at 11.30am, please let me know if you would like to join myself, Fay and Katherine.

Our AGM is fast approaching too. This will be on Wednesday the 20th March in the Kennet Room, from 7.30pm. I look forward to seeing you there.

Presentation Night is on the 11th May, the award ceremony will follow a dinner at 9.00pm.

Also next Wednesday at the club from 12.30pm is a lunch and a talk on the Nabobs of Berkshire, contact Reception on 01635 58100 if you would like to pre order your meal and book your place for this interesting talk.

As we enter the 25th Anniversary year of Donnington Grove Country Club I am so proud to be our Lady Captain.

Our Ladies section contains a strong friendly band of ladies who love playing golf not just at our Championship Course, but also at the many reciprocal courses we have the privilege of playing, including two recent additions, The Oxfordshire and Boundary Lakes. We have an extremely busy year ahead with a very full golfing and social diary which includes added anniversary competitions.

We organise and run a full programme of golf matches, roll ups, opens and leagues as well as a number of short break golfing trips and our ladies social activities that are just as popular. These include a wide variety of events such as organised walks, trips, themed suppers and charity events that our regular gatherings are well attended. We can also add to this list by enjoying a visit to the recently opened Avalon Beauty and treatment rooms.
If you are new to golf or are looking for a new club, you will find us friendly and welcoming. You will be supported and helped by our members, pro shop team and committee.

Our charity this year is the Rainbow Rooms. It is a well know local charity and part of the Newbury Cancer Care initiative. Full details can be found at:

http://www.newburycancercare.org.uk/rainbow-rooms.html

Happy Golfing to you all.

Kim Richardson
Ladies Captain 2018