Tom Fleming PGA and his team welcome you to DG Pro Shop
Raise your game with the latest golf kit from some of the sport's biggest brands including TaylorMade, Callaway and Titleist. For the ultimate advantage on the fairways, why not treat yourself to state-of-the-art, made-to-measure custom fitted golf clubs with one of our PGA Professionals.

As well as the latest hardware, we stock a full range of men's and women's wear. Browse collections from Footjoy, Sunice and Glenmuir and JRB. Logo clothing available for you to take home a souvenir of you game.

Hire equipment including Buggies, Trolleys and clubs are always available on booking.


You'll find the Golf Shop at the back of the hotel, open daily from 7.30am - 6:00pm



Phone - 01635 551975
Email - proshop@donnington-grove.com
Welcome to another edition of our newsletter.

It is not only in the UK where the rain has been falling, the pros on Tour also had to endure a downpour or two in the rather pleasant surrounds of Honolulu with one player staying in the hunt to take the victory. You will also find our regular features so take five minutes, grab a coffee and have a look through.

Enjoy the read.


Smith weathers the storm

A wet Sony Open burst into life during the final hour as Cameron Smith came from two back with two to play to force a playoff with long-time leader Brendan Steele.

It was soon over as momentum carried Smith through with a simple par at the first extra playoff hole to ensure he claimed his first PGA Tour victory outside of a team event.

It could - and probably should - have been different for Steele, who had a three-shot lead with just seven to play before it all fell apart. Bogies at 13 and 17 ending up proving fatal to his chances of making it a fourth PGA Tour win as Smith stayed in the game at a rain-soaked Wai'alae Country Club, Honolulu.


Have you taken advantage of our January SALE?
Don't forget that in the pro shop we're running a January SALE where you can grab some great deals across the board on many products. There are also great savings on both men and ladies clothing with many sizes available for you to choose from.
If you're looking for some new golf balls, then we're also running a special offer on the Callaway Supersofts - you can get the 15-ball pack for just £19.99 - usually £24.99.
So, if you have yet to take advantage, then be sure to pop in when you're next down at the golf club.
It's safe to say that the technology embedded into today's clubs has helped us hit the ball further without swinging any harder. For some that might mean hitting the ball as far as we did before the effects of ageing started to take place, whereas for others it means booming drives 300+ yards and reaching par-5s in two.
Just imagine...
If you hit every club in your bag five to ten yards further, your tee shots will be longer and you'll have less distance remaining to the green. So, rather than standing there with a 6-iron you might now have an 8-iron in your hand, which gives you a much better chance of hitting it close.


We can help you!
This can be the reality for a lot of club golfers today, but only if you make sure your clubs are right for your swing. With lots of new products hitting the shelves in the coming weeks, now's the perfect time to try out a few different options and see if we can make a difference to your game.
Hats off to any weekday and weekend warriors out there. It's great to see that no matter how cold or wet it is, you still venture onto the course to enjoy some time with your friends. We only have one piece of advice for you: be well equipped for what Mother Nature might throw your way!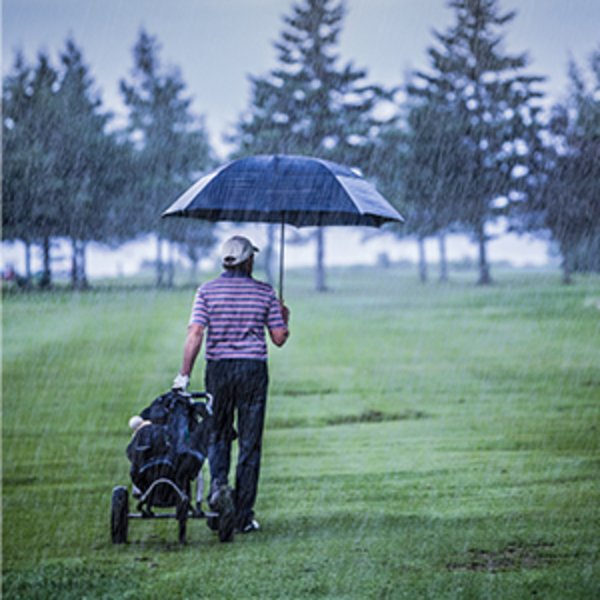 At least this guy has a brolly! But, when it comes to playing golf in the rain, we're talking about a lot more than simply that. From the latest waterproof suits (jacket and trouser) to bags and umbrellas, it's all key to staying dry with a smile on your face.