Scratch team for 2023
What a great 2022 Season it was for Donnington Grove's Scratch Team in their return to the Reading and District Scratch League after a number of years absence. Coming 2nd to Calcot Park II by a narrow margin and being promoted to League 1 for 2023 season. Division 2 players of year jointly was Jason Axford & Nick Hills with an impressive 9 wins out of 11 and as equally impressive Morgan Fletcher & James Percy coming 3rd & 4th in the order of merit.

Fantastic 1st year for all the team and to each of those that contributed to a great season. 2023 looking even stronger with new players being added to the squad. Look out for further updates on forthcoming team evening meeting in the swing room starting from start of March should you wish to come and join.
Team Captain again will be Paul Bailes, so should you wish to get in contact please email – paul.bailes@orchardgroup.co.uk

All fixtures on club V1 please join the squad theire.

READING & DISTRICT SCRATCH LEAGUE 2021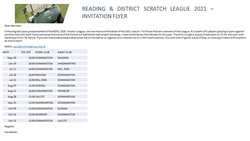 Following last years postponement of the RDICL 2020 Scratch League, we now have confirmation of the 2021 season.

For those that are unaware of the League, it is teams of 6 players playing in pairs against another club with both home and away fixtures and the format is 4 ball better ball scratch handicap.

I have listed below the fixtures for this year.

The aim is to get a squad of between 12-15 for the year with handicaps from 7 & below. If you are interested please either email me on the below or register your interest via V1 in the Teams section.

You will note 1st game is end of May so looking to have confirmations by end of April.



May-29 14:00 DONNINGTON READING
Jun-19 14:00 DONNINGTON SANDMARTINS
Jul-17 14:00 DONNINGTON MILL RIDE
Jul-24 14:00 READING DONNINGTON
Jul-31 12:00 MILL RIDE DONNINGTON
Aug-07 13:30 GORING DONNINGTON
Aug-21 14:00 DONNINGTON NEWBURY
Aug-28 13:30 CALCOT DONNINGTON
Sep-25 13:02 SANDMARTINS DONNINGTON
Oct-09 13:00 DONNINGTON GORING
Oct-16 13:00 NEWBURY DONNINGTON
Oct-23 13:00 DONNINGTON CALCOT

"Reading & District Inter- Club League" (RDICL)
Donnington Grove will join Division 2 of the league for the 2020 season

More information to follow, the league is now scratch better ball competition playing home & away.

Paul Bailes will captain this team please contact him to let him know if you would like to play (you don't need to be scratch)

Division 2 other teams :- Reading, Newbury & Crookham, Sand Martins, Calcot 2 & Goring 2