Senior's News
Shaun Taylor wins the Golf-Father Goblet
The Golf-Father final was fought out between nine finalists on Tuesday 12th October in fine autumn conditions.

Shaun Taylor came out on top with an impressive 37 points on the day which when taken with his average score achieved to get into the final meant he was the only player under handicap (36.165).

Peter Robertson was a worthy second with an average of 35 and Iain Cottingham third with 34.165.

Congratulations Shaun and commiserations are due for Ralph Peedel and Kevin Carver who were both badly affected by injury on the day having entered the final in pole position with the best average scores up to that point.
You can see the final results table HERE.
Wokefield Storm to Seniors Summer League Title
With five wins, two draws and only one loss, Wokefield impressively won the Three Counties Seniors Summer League title for 2021. Reading were somewhat distant runners up with our own chaps coming third, winning all four home matches and losing all four away. At least we were the only club to beat Wokefield!
Thank you to everyone who took part and we will clearly need to set the bar higher next year.
You can see the final table and results at Summer League Table.

Tuesday 28th Sept
Seniors v Wrag Barn (A) - Two Seniors Nearly Drown
The weather looked ominous when we arrived but thankfully it stayed fairly dry for most of the matches. The last match out braved terrible conditions to stay out and fight to halve their game. We watched from the comfort of the clubhouse as Ron Cannings made a great 10 ft putt on a flooded 18th green in the gathering gloom. He and John Headland arrived in the clubhouse to a round of applause looking like a pair of drowned rats.
We enjoyed a blow-out meal of steak pie and the biggest helping of bread and butter pudding with lashings of custard.
Oh yes, we gained a win of 5 points to three and look forward to playing them at home next season.
Thursday 16th September
Seniors v Newbury & Crookham (H) - an Ace !
For the first time this year the Seniors made a clean sweep 6 to 0 points win against our friends from Newbury and Crookham, proving the pre-match motivational talk threatening loosing pairs with a severe flogging was very effective. This was sweet retribution for our 5 ½ to ½ point loss at the away match.

Your Captain made an adventurous menu selection for the after- match meal. A delicate fusion of Asian and British cuisine – or prawn chow mein followed by apple crumble. An experiment not to be repeated.

Our final interclub friendly match of the summer season will be against Wragg Barn on the 28th September.

Well done Team on a magnificent victory!

TOGS - 14th Sept
Bomb Scare for TOGsters at the September TOGS
The September Red, Yellow and White TOGS Competition got off to a shaky start when a suspicious package was discovered at Newbury Station. It just turned out to be a pack of fried chicken, but that did not stop Newbury grinding to a halt.
The gallant TOGsters battled through the traffic and the appalling early morning weather to arrive almost on time at the course. At the end of the day some players had still not arrived so must have disappeared in the chaos.
The Competition was won by Maria Tillett with an impressive 38 points closely followed by Rob Carville and Rob Martin with 37. Dave Lawson must have cured his S***K as he was 4th with 36 points. All won a bottle of bubbly.
Prizes of red or white wine went down to 16th place and of course there were bottles of Covid beer for those who found the conditions a bit tricky. A full list of placings and prize winners is on the
website
.
I'm afraid to say there was still some evidence of slow play. We TOGsters must try to keep up with the group in front by playing 'ready golf' when necessary. This means being ready to play when it is your turn, spending only 3 minutes looking for a ball, playing a provisional ball when yours has disappeared into the rough and playing your ball before helping others to look.
The Prize winners can collect their prizes from the pro-shop for the next two weeks.
See you all next month for another mind-bending TOGS experience. Your TOGmeister
Tuesday 8th September
Seniors v Wokefield (H) - A fInish with a flourish!
Our aged heroes basked in the hot September sunshine and in the warm glow of a fine win over Wokefield - who lost for the first time in this year's 3 Counties League.

All the games were very close - but DG ran out convincing winners 4.5 to 1.5.

A great time.was had by all and our visitors were mightily impressed with the quality of our course, our hospitality, the food and the organisation - so thanks to all our folks at DG for their efforts - which are greatly appreciated by the Seniors.

This is the last of our games in the 3 counties League for 2021 and Wokefield now go on to visit Sandford Springs and to decide the winners of the competition.

A big thank you therefore to Ian Gaskell who not only set up this competition but has been the driving force and organiser of so many enjoyable games this year.

Well done team - and we'll done Ian.
Ed

Tuesday 31st August
Seniors v Freshwater Bay (H) - We Almost Regain Brian Whelan Trophy
The Seniors victory of three to two over our friends from Freshwater Bay was not quite enough to regain the Brian Whelan Trophy.

They had beaten us at the away game four to two, so overall the Seniors lost five points to six. Hard luck lads.

Our opponents managed to field only five pairs so your Captain did his best to claim they forfeit the sixth game to extract an extra point, but alas, to no avail.

The weather could have been better, but the rain held off and a good time was had by all. We look forward to taking our revenge next year.

Thursday 19th August
Seniors v Wokefield Estate (A) - A heavy League defeat
Our seniors came up against a hard nut to crack in their away visit to Wokefield. On a fun but challenging course, they faced opponents who were in a rich run of form. Four matches were ended in emphatic defeat. Our guys played well but unfortunately our opposition just played better, winning 5-1, and now look nailed on to win the League this year.

Despite the defeat it was a great day shared with our good friends from Wokefield
Tuesday 17th August
Seniors v Studley Wood (H) - No gain without pain (for one of us)
We had excellent golfing weather for our return fixture with Studley Wood at Donnington Grove.

It was your Vice Captain's first attempt at organising a Seniors' match so he was concerned not to make a botch of it.

Unfortunately, it was also the second day of scheduled maintenance on the course, with Dave Knight and his crew out doing hollow tining and seeding the back nine greens from 1:00 AM that morning. So an apology for the condition of the second nine greens was the first part of the welcome to our visitors. They were very understanding realising that course maintenance has to be done sometime so your Vice Captain was much relieved.

The two teams were quite evenly match so we were expecting a close result having lost the away fixture, but in the end we recorded a win of 3.5 to 2.5 The overall result of the two matches however, is that we lost 5.5 to 6.5, so we need some practice before next season's matches.

It was a shame that one of our team (Nick Wood) failed to clear the ditch around the 5th on returning from a call of nature. He had to be rescued by one of the Pro Shop staff (Dan I believe) having torn his calf muscle. We all wish him a speedy recovery.


Mike Pritchard


Tuesday 10th August
Seniors v Shanklin & Sandown (H) - A foggy start
The day started well for the Seniors. Everyone arrived in plenty of time for coffee, bacon baps and the pre-match tactics talk. Our team became rather concerned when the opposition had not arrived 20 minutes before the first tee time. There were scurelous rumours that our esteemed Captain had got the dates for the match mixed up. However, his bacon was saved at the last minute when the opposition arrived, their ferry from the Isle of Wight being delayed by fog on the Solent. Makes a change from fog on the Tyne is all mine all mine!
It was the Away Captain's birthday and he kindly organised a wee dram of malt for everyone on the first tee. It clearly boosted our boys' performance as we went on to a 4.5 to 1.5 win.
The fun continued during a very tasty two-course sit down meal in the restaurant. Your Captain was looking resplendent in his club jacket and tie, problem was, he had forgotten his change of trousers. Tom R came to the rescue a lent him a beautiful pair of cerise pants that almost fitted. At the end of the meal a birthday cake with many candles was presented to their Captain to a tuneful rendition of Happy Birthday. Thanks to the bar and restaurant staff for looking after us so well.
Seniors golf is really good fun!
Wednesday 4th August
Seniors v Sandford Springs (H) - an excellent League win
Our league team posted a very good home win against Sandford by 4 games to 2 on a brilliant day for golf with perfect weather conditions and once again a superbly presented course.
Three emphatic wins with a special mention for Peter Darwin and Kevin Carver who inflicted a dog's licence on their opponents one of whom had won our Senior's Open a couple of years ago.
Two hard fought draws and a pasting for the first pair completed the results roster.
Please see the latest league table HERE.

Monday 2nd August
Seniors v Marlborough (H) – A Fine Draw
Our ancient athletes continued their unbeaten run of games against our friends from Marlborough. The Seniors scored a well earned draw which, when coupled with the away four points to two result earlier in the season gave us an aggregate win of seven to five.

Well done boys, keep up the good work.

Thursday 29th July
Seniors v Osborne (H) - A clean sweep!
Yesterday in the sunshine saw a six points to nil victory by the Seniors over our friends from Osborne on the Ilse of Wight. Well done Team as it is the first time in many years that we have achieved a clean sweep.

The day got off to an amusing start when your esteemed Captain presented the match cards to the opposing Captain. Unfortunately, the cards were for the up-coming match against Shanklin and Sandown – All part of the fun of Seniors golf!

Tuesday 27th July
Seniors v Studley Wood (A)
The match was played on a superbly prepared course, the fairways like carpets and the approaches like velvet. The greens were pretty good too, even if you couldn't read them, unlike the home team who seemed able to putt from anywhere and sink the ball.

The weather held off long enough for the first match to arrive back at the clubhouse dry, one of the privileges of being CoD. Due to a slight error on the catering front pizza became chicken chasseur, according to the Michelin star cook, and at the price of a pizza.

Oh, and the result, we lost 4 to 2. Better luck on the return match.

Monday 18th July
Seniors v Manor House (A)

I am pleased to report that we mirrored our home win result of 3.5 points to 2.5, the final aggregate result being 7 to 5.

One of our players was so confident in his golfing ability that he even left his clubs at home. It was not until he arrived at junction 15 of the M4 that he remembered. Seniors golf!

The big mystery is that nobody can remember who holds the Trophy or where it is hiding. So, if anyone out there in cyber space has any ideas can they please let the Seniors Captain know.

Friday 16th July
Seniors v Reading (A) - A Heavy Away Defeat
Our seniors suffered their second away defeat in the league in a week when they were outplayed by Reading by 5-1. A beautiful day, super but undulating greens played on an interestingly changed course was the order of the day. It was a defeat but still a very enjoyable match excellently hosted by old friends and new acquaintances. A big thank you to Steve Warren and Chris Tobin for sparing our blushes to a small extent by winning their match.
Latest league table is shown at Summer League Table.
Monday 12th July
Seniors v Springs (A) - A Significant League Defeat
The Seniors suffered defeat at the hands of The Springs by four games to two in the Three Counties League. After heavy rain overnight the match was played in surprisingly pleasant weather on an excellent fun course with good greens which is going through significant investment from the new owners. Once heavy grass around bunkers and on the mounds dotted around the course has been turned into a wispy state, this will be a very well presented course.
Many thanks to Springs for hosting us so well on and off the course.
See latest league table HERE.

Thursday 8th July
Ladies v Seniors - The battle report !
11 pairs of carefully matched Donnington Seniors were pitted against 11 pairs of Donnington Ladies on Thursday 8th July.

Many of the matches were extremely close and everyone reported that they had had a really good time not least because the weather remained dry throughout.

Things were looking close after the first four matches with one win each and two draws. Thereafter the Seniors rather ran away with it winning 6 of the remaining seven matches and drawing the last. The overall result being a resounding victory for the Seniors by 8.5 to 2.5.

There was some muttering from the ladies about 'bandits' and a need for some practice before a return match but it was all played in very good spirits!!!
Tuesday, 29th June to Thursday 1st July
A Brilliant Tour to the Isle Of Wight
12 enthusiastic, if ageing, tourists enjoyed a great three days on the Isle of Wight. The weather was kind, the company real fun and the opposition (now old friends) as always very welcoming. Freshwater provided superb cliff top views, Shanklin & Sandown as always provided a lovely golfing test and Osborne as ever presented an immaculate golfing environment. After our tiring efforts on the course, we were able to enjoy extremely tasty home cooked meals at each of the three clubs.

The new overnight accommodation proved a "slight" upgrade on the Calvert and there is a rumour that the ghost of Cliff is still walking the corridors of the Sandringham Hotel looking for a non-existent room 16 whilst clutching a key for room 91.
The results of the matches were less positive losing 4-2 at Freshwater, 5-1 at Sandown and halving at Osborne with the odd dark mutterings about how can so and so be getting ten shots when he is consistently on the green at the same time as me! Perhaps the style of courses has something to do with this and they will get their come-uppance when we get them to our place.
The tour winners and losers are as follows:
Peter Drummond won the hastily convened putting competition under stiff pressure from Messrs Reseigh and Tobin;
Ian Flack won personality and virgin of the tour and it will be good to see more newbies coming next year;
Messrs Drummond, Whittaker and Lewsey narrowly won the Wednesday night quiz competition well sourced and presented by Chris Armitage. All rounds were closely contested until Mike Lewsey's superior knowledge of early sixties pop music held sway;
Only 39 lost balls were recorded perhaps due to the soft playing conditions and Dave Lawson scooped the prize with a closest estimate of 42;
The Brunsden Birdie (best car score) was secured by Messrs Armitage, Waller and Hartwell;
PPP (Piss Poor Performance) was won by Mike Lewsey and the Tour Champ was Chris Armitage. As both of these positions have been reversed in recent tours, it shows the fickle and fine line between heartache and success.
Congratulations Chris.
Thursday 17th June - Seniors vs Reading (H)
Phew – Seniors squeeze past Reading in home league victory
Two radically changed memberships since we last faced off in the Seniors Three Counties League.

Home advantage just saw Donnington Seniors though to a narrow home win by 3.5 to 2.5.

A big change to the usual old faces for this match did not detract from a thoroughly enjoyable day played on a course in excellent condition and delightful company shared with new friends.

Shame about the captain's performance in the first match losing 7&5 but well done to everyone else for splendid performances even for those who very narrowly lost.

You can see the latest league table HERE

Thursday 3rd June - Seniors vs Marlborough (A)
Seniors Triumph at Marlborough.

The day started with a nightmare for the Marlborough Captain. Two of his team had not turned up. It transpired that one of his players had enjoyed a very pleasant round at Donnington Grove and the whereabouts of the other remain a mystery. So, it was a day typical of seniors' golf.

The highlight of our four to two win was Tom Reseigh, playing off 17, went round in five over gross. Well done Tom. His opponent was not too pleased having scored 39 points and loosing by a dog license!

Keep up the good work chaps.

Tuesday 1st June. Seniors vs West Berkshire (H)
A Good Start to Retrieving the Elfed Cup.
Elfed Davies was a founder member of West Berks GC and Club Secretary at DG for a number of years and we play for the Cup in honour of his memory.

Honours were even for the home leg of the prestigious Elfed Cup, played on a glorious sunny day. A halved match leaves us in the best shape for a number of years in our quest to retrieve the Cup. In fact, I cannot remember ever having won it!

The course was in fabulous condition with very fast greens in preparation for the Europro event next week. Well done to Dave and his greenstaff.

Wednesday 19th May
Our boys overcome by the mighty Knights Templars
Two hours before our tee time it was raining cats and dogs. Tee time arrived and a perfect summer's day for golf had arrived.

The highlight of my round was playing with Jethrow Tull. No, not the rock band but a direct descendant of the 17th century agriculturist who invented the seed drill and transformed farming – you learn a lot playing Seniors golf.

What about the golf? It was a close run game. We were one up until the two last groups came in. Unfortunately both lost resulting in a win for the Templars three and a half to two and a half.

Better luck next time guys.

Thursday13th May
Honours even again at home against Weybrook Park
The weather was very dodgy in the morning but the brave Seniors Captains decided the match should go ahead.

Coffee and bacon baps were served under the big umbrellas in the courtyard and the baps stayed fairly dry.

The miracle the Captains had hoped for arrived when the sun came out on the back nine and the players arrived back at the club house warm and dry.

Our final pair of Chris Tobin and Andy Willoughby came in with a win to halve the match, much to the Donnington's Captains relief.

Wednesday 28th April
Seniors experience tough afternoon at Sandford Springs

Unfortunately Sandford Springs proved too good for our chaps and deservedly won at home by 4-2. For most of the afternoon, the conditions and course were good value and then the rain settled in and it all got a bit tougher.

Well done to Sandford who have won both their home league matches so far. The latest table can be seen using the following link Clickety Click

Monday 26th April
Seniors Continue their Winning Streak at Home
On yet another sunny day the Seniors took on The Manor House in the first leg of the Challenge Trophy. The restaurant coped gallantly with the early influx of twenty-four hungry golfers.

A closely fought competition resulted in a 3.5 to 2.5 win to the home team who take a one-point lead into the away game to be played on the 19th of July.

Thursday 22nd April
First League Game and First Win at home against Springs
Beautiful weather, a match against old friends, sunning ourselves and having a drink in company on the patio provided a return to one of our nicer visions of the old normality.

Our seniors welcomed Springs for our first home match of the summer season and came out winners by four games to two to begin our league season in promising fashion.

It is good to be back!
Ian

Tuesday 20th April
Honours Even in Seniors First Interclub Match of the Year
On a beautiful almost summer day our Seniors took on the cream of Weybrook Park.

The sun was shining, the greens were lightning fast, the lakes were an inviting blue and the opposition were awesome.

The match results were variable, ranging from 6 & 4 defeats to 3 &2 wins with no matches halved.
The star man on the day was John Headland. He set a new Weybrook Park record in playing the front nine par threes in three under par! He made a spectacular hole in one on the seventh and a birdy on the second, both holes being over water.

Well done John, and keep it up for the next game.

Cliff

TOGS Yellow Ball Competition
Tuesday 27th October
A wet and windy Grove met the valiant band of some 50 Togsters who donned their waterproofs, braved the conditions and set forth with the dreaded yellow ball.

I am delighted to report that all survived to the 9th hole - (no one drowned as far as we know) when thankfully the competition was abandoned - thanks to the wisdom of the first group out! This had the benefit of more time in the cosy/covid approved bar to relax, dry out and enjoy the prizegiving.

The competition was won with a magnificent 3 under par 57 points by Sally Ottaway, John Sayers, Rob Carvill and your Togsmeister - I promise the result was not a fix. The prizes went all the way to 5th place with a special Coronovirus beer for the wooden spoon. The full results can be found here.

The next TOGS is on the 17th November when another 'diabolical' challenge will meet the Togsters. Watch this space!
Peter Drummond wins the 2020 Golf Father Trophy
Tuesday 13th October
Nine finalists battled it out in what proved to be surprisingly tough "winter" golf conditions with Peter Drummond coming out on top with a final stableford score of 32 points. Andy Skelly came second with Mike Pritchard an honourable third.

Finals day was the culmination of the Golf Father competition which had been held during the summer season post lockdown with all those seniors who had posted a minimum of three scores from eight club midweek stableford competitions being eligible.

Thank you to all those who entered and congratulations to Peter.
A good win for the Seniors against the Ladies on a delightful day for Golf. - Thursday 1st October.
The seniors retained the trophy following a mega match between the Ladies and Seniors involving 56 players (14 pairs matches) by 9.5 to 4.5.

Well done to Gill Lane for winning the Ladies nearest the pin and commiserations to all in the Seniors line-up as no-one managed to get their tee shot on to the 17th green to win the Seniors nearest the pin (!).

The weather and course were the best that autumn can provide and all the matches seemed to have been thoroughly enjoyed by all the participants. Well done to all who played and to those that starred (Isabel Ember, Simon Vines, Juliet Culley and Mike Lewsey come to mind and of course there were others).

This was further evidence of old and new members joining together to ensure that we all had a great day.Photos from the day can be viewed here.
Irish Trios - The Results
September TOGS, Thursday 24th September
We had the Luck-of- the-Irish with the weather yesterday. No rain and even some sunshine.

The major event was the best Irish Hat competition. It was between Mike Pritchard with his genuine Irish tweed cap, reputedly found in a genuine Irish bog, Alan Ravenhall in a number made by his good Wife and Cliff Waller who's genuine Irish hat was made in China. Mike was the winner, selected by general acclaim of the assembled Togsters. He took home a bottle of quality bubbly.

Thirteen teams competed and most managed to navigate the scoring system, for those that found it a bit Irish our Senior's Captain sorted it out.


The winners were Sue Foote, Terry Goodsell, Bradley Bolwell and Chris Tobin with a score of 118 points,
In second place were Ann McMahon, Brian Maisey, Mark Ottaway and Cliff Waller with 111 points.
In third place were Ann Maisey, Jan Torrance, David Aagaard and Mike Pritchard with 110 points.
In fourth place (on countback) were Julie Myall, Rosemary Madden, Dee Tomlinson and Fay Unsworth.
The most use of the course was won by an Irish mile by Sandra Bruce, Ron Cannings, Bob Batchelor and Darrell Banner. They took home, rather appropriately, a bottle of Corona beer each.
The winners and fourth place teams were not available to collect their prizes on the day. The Togsmeister will leave their prizes with Tom in the Proshop on Sunday afternoon for collection.
Looking forward to seeing you all again for another exciting TOGS on Thursday 22nd October.
Cliff - TOGSmeister
Seniors enjoy a great away day
Seniors v Wokefield Estate (Away) - Wednesday 9th September 2020
Meeting old friends and experiencing almost pre-Covid normality was the order of the day in our away fixture at Wokefield.

A high quality match ended all square (3-3) with notable performances from players on both sides. Messrs Flack, Sayers, Ottaway, Bendle, Lawson and Peedell all being mentioned in dispatches for the Away side.

Well done team and a reminder of the fun that we hope awaits us in future matches

Two on the bounce for the Seniors
Seniors vs Freshwater (Home) - Tuesday 1st September 2020
A good day out on the Donnington Grove course for the Seniors today. A 3-2 win against our good friends from Freshwater Bay saw us retain the Brian Wheelan trophy.

A good match played in good spirit with good company in good weather and a good result. What's not to like?

Life, as they say, is good.

If you're a little bored, you could count how many times the word good has been used in this report ! If you're good enough to get it right, that would be good.
Newbies vs Oldies – Great fun despite the weather
Thursday 27th August
The seniors enjoyed another excellent day in their programme of events to help with the integration of new members into senior activities.

A team of established old fogies played a better ball pairs match against a team of new members led by Ralph Peedell. Because of the impending doom of torrential rain and thunder and lightning the match was restricted to 14 holes and all got in before the worst of the storm hit.

Experience of the course held sway with the Oldies winning 4.5 to 1.5 with the only loss for the "hosts" being experienced by the old fogies' captain.

Well done everyone.

Seniors Summer Starts with Success over Studley
Seniors vs Studley Wood (Home) - Tuesday 18th August 2020
This was the first inter-club friendly match for the Seniors since February. Normally during that time we would have played some 25 to 30 matches so it was indeed a real pleasure to be out on the course again honing our match-play skills.

We were delighted to be able to field 4 newcomers to the club in the Seniors team and even more delighted that Donnington Grove managed to squeak a 3½ - 2½ victory over Studley Wood so well done everybody.

This was Studley Wood's only match to be organised this year whilst we have a further 2 to look forward to. Thanks must go to Ian Gaskell for his tenacity in organising these always enjoyable events.

Great day at the Meet & Greet - plus a hole-in-one
Monday 10th August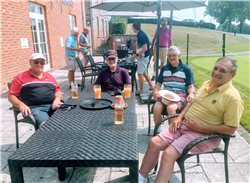 Following the influx of many new senior members over the past couple of months, a Meet & Greet morning was held to help the process of integrating new members into senior activities.

21 oldies hosted 31 newbies in a fun four ball team competition in somewhat warm conditions. This provided great enjoyment both out on the course and out on the patio afterwards.
Congratulations to Team Robert Maguire, Peter Darwin, Steve Johnson and Tim Robinson (pictured) who won booze and club hats with a score of 146 closely followed by Team Richard Deal, Ian Gaskell, Malcolm Clarke and Ofer Ben-David with 144, winning a sleeve of balls each. Perennial nearest the pin winner, Peter Darwin, was at it once again and secured a nice bottle of Prosecco.
Thank you to Tom Fleming for his contribution to the prizes.

Lastly congratulations to Barry Lancaster for his hole in one on the 5th and the bottle of whisky on the bar was much appreciated!


TOGS - First Competition Post Covid 19
Thursday 30th July
The first TOGS competition post Covid took place on a beautiful sunny day, perfect for good scoring and socialising.

We had a record turn out of 43 competitors who took part in teams of four to count the best score on par fives, the best two on par fours and the best three on par threes. Nearly everybody stayed for the prize giving which was held in great spirits on the club terrace after the event.

The scores were as scorching hot as the temperature on the day. The winners who posted a magnificent twenty under par 92 points were, Ofer Ben-David, Alan Weddell, John Headland and Malcolm Sheppard. In joint second place with 86 points were Iain Cottingham, Andy Willoughby, Ann Lawson, Katherine Hartwell, Graham Falconer, Chris Armitage, Sue Foot, and Andy Madeley. All went home laden with the best bottles of bubbly and wine that 'Lidl' could supply.

Thank you to all who took part and it was a real pleasure to welcome so many of our new members.
Looking forward to seeing you all again at the next TOGS on Tuesday 25th August.

Cliff Waller, TOGSmeister
Seniors Charity Bowl Winners
Congratulations to winners Barry Whittaker and Peter Drummond !
Read a full report of the day and the generosity of the competitors by clicking here.
Seniors Winter Knockout Champion - Andy Skelly
The final of the Seniors Winter Knockout has belatedly now been played with Andy Skelly beating last year's champion, Joe Richardson, in a tightly fought match - one up.

Well done to both guys and thank you to all those who participated.
CORONAVIRUS UPDATE
Postponement of Seniors Matches.
Regrettably, we have taken the decision to postpone all Seniors fixtures until the end of May at the earliest. The situation will be kept under review and a decision regarding fixtures beyond the end of May will be taken nearer the time.
Excellent Day at the Downshire
Seniors vs The Downshire (Away) M4 Winter League - Monday 16th March
The Seniors secured an impressive half (2-2) in their away M4 league match at the Downshire. Careful social distancing and limited social engagement did not detract from an enjoyable match played in almost summer sunshine conditions. Well done team!
A Honourable Half at Hadden
Seniors vs Hadden Hill (Away) M4 Winter League - Thursday 12th March
Our Senior Warriors came away with a very creditable sharing of the spoils from their match against Hadden Hill in the M4 League with two games won and two rather seriously lost.
This is a new and enjoyable venue for the Seniors and what a pleasure to play on predominantly dry fairways. The craic was good, the food excellent and the greens ran nicely.

Match Abandoned
Seniors vs Sand Martins (Home) M4 Winter League - Thursday 5th March
Yet another day of heavy rain caused the abandonment of today's match. Standing water on the fairways and in the bunkers resulted in the course closure after the first group had completed just three holes.

The Sand Martins players were most gracious about the decision despite their journey along the M4.

It's not yet clear whether the fixture can be re-arranged, given the continuing bad weather and an already busy schedule for March, it seems unlikely - but watch this space.
Seniors AGM, 2nd March 2020
The minutes of the meeting have now been published and can be viewed on the Seniors Hub
Tough ask at West Berks for Seniors in M4 League on Monday 24th February
Facing pretty appalling conditions underfoot and smatterings of strong winds and some rain, our Seniors battled against a strong West Berks team to no avail, loosing 3-1. Three close matches, including one win courtesy of Patrick and Tom, was a reasonable return given the circumstances.

Congratulations to West Berks, who with this win, are divisional champions and good luck to them in in the knock-out phases.
TOGS 13th February 2020
It was a rather waterlogged course that greeted 14 stout-hearted souls who battled the 'Terrible Trio' TOGs pairs competition. Six holes greensomes, then six holes foursomes, finished off with six holes better ball.

The scoring was close but the winning pair with a creditable score of 33 points and winning a bottle of bubbly each were Brad Bolwell and Barry Whittaker (Barry, John R is looking after your prize). In second place were Hugh Powell and Andy Woodley, with Peter Robertson and our Seniors Captain Ian Gaskell in third place. The wooden spoon(actually two large bottles of Moretti lager) went to Steve Gridley and Colin Henley.

Next TOGS is on Thursday 26th March. Remember, it's open to all members so we hope to see you there
At Last on Thursday 23rd January – a TOGS takes place!
At the third time of asking the course conditions allowed an end of year and now New Year TOGS to take place. Given the last minute arrangements, an excellent turn out of 30 had a thoroughly enjoyable day on a mostly almost dry course.

The format was four person teams playing a better ball mix-up with each team member playing six holes with a different partner. The better ball score from each pair being totalled for each hole.

All scores returned were below handicap and the winners (Sue Foote, Nick Marshall, Geoff Hawkins and Dave Lawson) were 19 under par with a score of 91! Andy Skelly, Daniel Boyce, Mark Buckley and John Headland were not far behind with a score of 88.

Well done to all who took part.
Seniors see off Sandford
Seniors vs Sandford Springs (Home) - Tuesday 3rd December
In the pale winter sunshine at Donnington Grove, our aged heroes stirred their loins (apologies if this conjures up unpleasant images? – Ed) and managed to secure a fine victory over Sandford Springs in this years Graham Jefferies Winter League.

Splendid performances from Messrs. Gaskell Clarke and Carvill contributed to an overall team win by 2.5 to 1.5.

So, after a dismal start to this years campaign, DG seniors are moving steadily up the pool table. Watch this space – but don't put any money on it!

Well played team – Ed.
Water-logged at the Wiltshire in the GJ League…
Seniors vs The Wiltshire (Away) - Monday 18th November
Our aged heroes slithered and splashed around the mud soaked 'fairways' (surely some mistake here – ED?) yesterday in their GJ winter league match v the Wiltshire GC and yet convincingly managed to halve the match.

This was down to a fine performance from Big Al. and Big Kev. and sound halves from Andy M & Rob C and Peter D & Barry W.

In fact, it was only the pair of captains (sure this is the right word? – ED) out first, who managed to let the side down.

So well done team – onward and upward – and come back soon big Kev !

Ed.
Cumberwell convincingly Clobbered !
Seniors vs Cumberwell Park (Home) - Thursday 14th November
To make up for the narrow defeat in the recent away match,our aged heroes pulled out all the stops yesterday and turned in a splendid performance to beat a really good Cumberwell Park team by 3 to 1 and indeed our fourth pair only narrowly lost their match on the last green.

A really good all round team performance which has restored some (though not much!) semblance of acceptability to our position in this year's GJ league table.

Well done team – Ed,
Seniors Suffer Another Crushing Defeat
Seniors vs Sand Martins (Away) - Monday 11th November
Sad to say our winter league match players suffered a second four nil drubbing in succession in the M4 League away to Sand Martins.

Despite the weather, with the match having to be played over the back nine twice with the front nine closed, the course, especially the greens, was in pretty good nick. Unfortunately so was the opposition who proved far too good on the day.
Seniors Lose Away In the Graham Jefferies League
Seniors vs Cumberwell Park (Away) - Thursday 31st October
The Seniors had a very enjoyable day at Cumberwell Park losing 2.5 to 1.5 with two matches being closely fought. Despite all the recent rain and autumn work, the course (blue and yellow) was in pretty good nick and as fun to play as ever.

They are a good team so we will need to be at our best for the return in November.
Seniors Take a Pasting in the M4 League
Seniors vs West Berks (Home) - Tuesday 29th October
Our Seniors took a fearful hammering from a very strong and determined West Berks outfit in our home M4 League match yesterday. Although the score was 4-0, three of the matches were well contested with two going to the final putt on the final green.

This one will be a good one to win away!
Good Win for Seniors in M4 League
Seniors vs Hadden Hill (Home) - Friday 25th October
The seniors battled against inclement weather to win their home league match against Hadden Hill by 3-1. This is the first time that we have played against this opponent who seemed to go away with good thoughts about the course despite the conditions.

We look forward to our return fixture in March which hopefully will be played in somewhat drier conditions.
Seniors Downed Emphatically by Sandford Springs
Seniors vs Sandford Springs (Away) Tuesday 22nd October
The M4 Winter League match away at Sandford Springs was played in glorious sunshine on an immaculate course. Unfortunately our golf was less than immaculate, losing 3½ to a ½. Bring on the return match in February !
Seniors End Of Summer Season Bash
Captain vs Crew - Thursday 17th October
The seniors enjoyed a terrific day with the 12 members of the Captain's team holding sway over their twelve counterparts in the Crew ably led by Dave Lawson. A fun time out on the course, despite some rain, was followed by a meal and trophy presentation.

Commiserations to Graeme who was assaulted by Roger's reverse shank and suffered a broken ulna bone in his forearm. A desperate way to nobble the opposition! We hope that you are soon back on the golf course Graeme.
Thank you to everyone who took part.
Some of the key presentation photos follow:


Good Start in M4 Winter League
Seniors vs Downshire (Home) Tuesday 15th October
Our chaps began their M4 league campaign with an excellent home win against Downshire by 3-1. Three very competitive games and one easier effort meant it was a closely fought match in surprisingly decent conditions given the deluges of rain that the course has recently suffered. Well done to Dave and his green staff.
Seniors stun Studley
Seniors vs Studley Wood (Home) - Thursday 10th October
A welcome break from all the recent rain allowed our Summer match against Studley Wood to be completed in really rather pleasant conditions.

Sadly for our visitors, the Donnington athletes were in splendid form and came through victorious with a fine 4-2 win.

As always, we had a good day out with our friends from the north. They were highly complimentary about the course, the hospitality and, particularly, the food - fish and chips served fresh from the fryer and absolutely delicious.

That's now it for this season's Summer matches. Winter golf follows, but fear not for next Summer can't be too far away can it ??

See you all in April !
Seniors wilt against The Wiltshire
Graham Jefferies League (Home) - Friday 4th October
In somewhat soggy conditions the spirits of our aged heroes were further dampened by a fine performance from our visitors from The Wiltshire.

A fine performance from our Seniors Captain was the only highlight in a team performance which matched the miserable weather as The Wiltshire ran out winners by 3 to 1.

Nonetheless, it was a match played in the very best friendly spirit and traditions of the GJ Winter League and our visitors returned home impressed with our course, our lovely bar staff and our hospitality. They were clearly less impressed with our golf!

Onwards and upwards? Well done team – Ed.
End of Season Match – A Close Run Thing
Seniors vs Ladies - Thursday 26th September
The Seniors had a very enjoyable encounter against our Ladies coming out with a close fought win (2.5 to 1.5) on a surprisingly pleasant day with only the odd couple of rain showers to contend with. The greatest success was probably getting the match to go ahead given all the conflicting commitments at this time of the year. The highlight of the day was without doubt seeing Anne-Marie back out on the golf course doing some putting and chipping to help Fay in her match after a late withdrawal. Well done to both sides for making it a thoroughly rewarding afternoon.
2019 DG seniors open
A GREAT DAY ENJOYED AT THE SENIOR MEN'S PAIRS OPEN
Excellent weather, a superb course and great food meant that most and probably all the 100 entrants had a thoroughly enjoyable day. A big thank you to our wonderful ladies who helped keep the wheels of process operating smoothly throughout the day.

Congratulations to Patrick Griffin and his guest, Ian Vickerage, who won the overall prize with a stonking 47 points better ball score. Peter Jones from the Downshire and Martin Rudderham from Amfield were the Guests winners and perennial winner, our club captain Rob Carvil, with his guest David Griffin won the Members first prize. Over 60 guests participated.

Finally a big thank you to all those who entered and contributed to a whopping £889 raised for the Captains Charity.


Andy Madeley and Peter Darwin win Senior Pairs Charity Bowl
An "enthusiastic" entry of 12 pairs competed in the Charity Bowl held on Thursday 12th September on a cloudy but pleasant day at Donnington. The competition was based on the two individual stableford scores being added together and Peter Darwin and Andy Madeley ran out winners with a solid points score of 71. Peter Smalley and Ian Flack came second with 69 and Mike Pritchard and Patrick Griffin came in third with 65.

The highlight of the day for John Rance, Nick Marshall and Peter Darwin was probably obtaining bragging rights from beating the pro (Tom Fleming) on the seventh with Tom being particularly intrigued that his seven iron was not a match for John's driver.

A useful sum of £320 was raised for charity with £180 coming from the entry fees and £140 from very generous "beat the pro" contributions and thank you in particular to the winners for ploughing their winnings back into the charity pot. A special mention to Tom for giving up his time to support the charity over a three hour period (because of a staggered start).
Disappointing Defeat for Seniors
Seniors vs Wokefiled Park (Away) - Wednesday 11th September
The Seniors suffered a significant away defeat by 4-2 in their last Summer League game at Wokefield in a closely fought match against an opposition that were certainly on their game on the day. It was a disappointing outcome, leaving the winning of the championship out of our hands, but a cracking match on a well presented course against our good friends from Wokefield. All lost matches went to the wire. A good effort team!
Honourable draw at Sherfield
The Seniors braved the elements on the Wellington course at Sherfield Oaks on Friday.

With the wind and the cold it felt like Autumn was truly here.

The Seniors having drawn at home, managed an honourable draw away also.

Well done to Nick Marshall who played extremely well and won on his debut, partnered ably by Simon De Angels.

Well done also to Mark Ottaway and Ian Flack the other winners.

Seniors retain Brian Whelan Trophy
Seniors vs Freshwater (Home) - Wednesday 4th September
The Seniors hosted their good friends from Freshwater Bay, Isle of Wight today.
Everyone had a thoroughly good time and our guests were very complimentary about the course and the refreshments.

Nearest the pin was won by big John Smith for Freshwater and Chris Tobin for DG.

Having won 3½: 2½ at their place we were keen to at least draw to retain the trophy. However we did a bit better than that winning 5½:½!

We may have to get a replica made for Freshwater to keep at their place!

Seniors Trounced !
Seniors vs Newbury & Crookham (Away) - Thursday 23rd August
A thoroughly enjoyable day at Newbury could not hide the fact that our Seniors suffered a heavy defeat by 3.5 to 0.5. Some of the opposition played out of their skin!

Only four matches were played because the Home Team struggled to feature a full squad as many of their members were attending the funeral of a colleague. However Donnington's four extra players were able to enjoy the course and join the teams for the after match pleasantries.
Seniors Stuffed at Studley
Seniors vs Studley Wood (Away) - Tuesday 20th August
A bright sunny day.
A course in good condition.
Fast Greens.
Wholesome grub.
Good Company.
And a tonking from our hosts.

With the notable exception of Ian Flack and Mark Ottoway, the rest of us came away with our tails between our legs after a heavy 5-1 defeat.

It's a long drive up the A34 to Studley so maybe we were all a little jet-lagged.

All to play for then in the return leg at DG on October the 14th.
Another win for the Seniors
Seniors vs Shanklin & Sandown (Home) - Tuesday 13th August
On a glorious day (one of the few in August so far) the seniors enjoyed a fine victory over the visitors from the Isle of Wight.

Cliff and John enjoyed a sporty win over their opponents, one of which left his hearing aid on the Isle !

Mike and Dave scraped a half thanks to an amazing 720 degree lip out by the opposition on the 17th.

A warm welcome to new member Ofer Ben-David (Ben), who won his opening match with Tom.
Seniors gain payback for earlier thrashing
Seniors vs Mill Ride (Home) - Monday 12th August
An excellent contest ended in a close home win against Mill Ride Seniors by 3.5 to 2.5.

All matches were very tight until the last knockings and all parties seemed to have enjoyed this new fixture on what eventually turned out to be a great day for golf after both weather and home team player numbers improved dramatically from a dodgy start. A big thank you to Peter Drummond who was hauled off the course to start the match having already played nine holes.
Seniors Achieve Nail Biting Win
Seniors vs Sandford Springs (Home) - Wednesday 7th August
Our redoubtable Seniors managed to defeat Sandford Springs by the closest of margins in their last home league match of the season.
Four of the matches had a wafer thin of difference with Barry Lancaster and Dave Williams securing a valiant half in the last match to ensure that we won 3.5 to 2.5.

Well done team – onwards and upwards!
Overall Win against Marlborough
Seniors vs Marlborough (Home) - Tuesday 5th August
In our first summer home friendly against Marlborough for a number of years, the Seniors lost only 1 game. All the others were won or halved. The final score was 4:2. Added to the 3:3 draw at their place meant that we also won overall.

It was a glorious day and we had an extremely friendly and enjoyable match. The visitors were very impressed with the condition and quality of the course and the delicious meal.

Well done all!
Osborne Overcome
Seniors vs Osborne (Home) - Thursday 1st August
Our friends from over the water came to visit DG today and had a splendid time.

They were indeed, overcome with our great course, the great hospitality, the great food and service from our bar and restaurant staff and indeed the great weather!

They were also overcome by the quality of golf from our aged heroes, who ran out winners by 5 games to 1.

Well done team!
What a Scorcher for our Seniors
Seniors vs West Berks (Away) - 25th June
The Seniors had a very enjoyable away trip to West Berks on the hottest day for many a year. West Berks were excellent hosts ensuring that there were as many buggies as possible to go round and plenty of water during the round.

The match ended in a close fought draw which meant that West Berks held on to the Elfed Trophy by virtue of their previous win in the first match at Donnington.

The camaraderie and fun was a fitting testament to the memory of Elfed Davies who had such an important involvement in the development of both sets of Senior Groups.
A worthy and wet draw at Caversham
Seniors vs Caversham Heath (Away) in the Three Counties Summer League - 19th June
The Seniors may have looked like drowned rats but this was no sinking ship. The Team overcame a very wet and muddy first four holes, which are being significantly changed in a major reworking of the Caversham Heath course, to register a very creditable draw against our good friends and rival league contenders.

Starting was a bit risky given the rain and forecast but the weather calmed and most of the round was played in decent conditions.

Well played and good resolve shown.
Seniors Manage Important Draw at Springs
The Old Boys had a great day out at Springs playing on their much changed and superbly presented course achieving a hard fought draw. The weather was almost perfect and as ever the company was very enjoyable.
These are the first away points secured by any club in the Seniors Summer League so far this season.

Well done team!
Seniors IOW tour 2019
Our annual raiding party to the Isle of Wight took place on the 2nd - 4th July.

Want to know what went on?

click here !
N&C see off the Seniors (just!)
Old golfing friends, Newbury and Crookham visited Donnington Grove today and not only brought the sun-shine with them but also their A games.

In a very close match, our visitors won through by 3.5 to 2.5 with many of the games going to the 18th hole.

All who played were justifiably impressed by the superb condition of the course and the excellent service from the restaurant and bar staff.

It really made our aged heroes feel very proud to be members of Donnington Grove.

Well done to everyone in the DG team……

Seniors Lose First Leg of the Elfed Trophy
Seniors vs West Berks (Away) 24th June
On a glorious day for golf, the intrepid warriors narrowly lost 4 against 2 to West Berkshire.
The course was in fantastic condition.
We were narrowly beaten in all 4 of our lost matches, so there is good reason to be optimistic in our return match, for the Elfed trophy, later in the year.
A memorable feature of the Captain's match was Steve Haylor driving the green on the 14th hole. Luckily he is unavailable for the return!

Thanks for all the support of our team.

Seniors Achieve Home League Win Against Caversham
Seniors Achieve Home League Win Against Caversham

The pattern of home wins in the League continues with our Seniors securing a hard fought win against Caversham Heath by 3 1/2 to 2 1/2 on Thursday 20th June.

As usual this was an excellent day with our friends from North Reading on a great course and with excellent company.

Finally we say a big thank you and farewell to the cheerful demeanour and great golf of our friend Jim Purvis and hope that he and Sarah have an exciting new life back in the North Midlands.

Great Away Win at Manor House for Seniors
Thanks to all the team for braving the persistent drizzle, intermixed with a good downpour!
The Manor House course was in excellent condition, and the greens remained playable despite the conditions.
One notable feature of the course was the waist high grass, for those particularly errant shots!
The result was a narrow victory for Donnington at 3 1/2 to 2 1/2, which meant, as we drew our home fixture 2 1/2 to 2 1/2, that we retain trophy.

Thanks again to all those intrepid warriors involved in the match

No redress for Seniors
Seniors vs Weybrook Park (Away) 6th June
The unyoung warriors ventured to Weybrook Park to attempt to redress the heavy loss at home.

The weather was good and the course in good condition.

The untouchables Mark Ottaway (win) and Simon De Angeli (half) retained their unbeaten record but alas only 1 win and 2 draws meant a defeat by 4:2 as a team.

Peter Robertson made his debut for the team and acquitted himself extremely well.

A good meal and enjoyable banter followed, making it a splendid day.
Seniors Lose M4 Cup Match Away to Mapledurham.
"Seniors Lose M4 Cup Match Away to Mapledurham.

Unfortunately Mapledurham were too good on the day and beat our intrepid warriors 3-1.
The course was well presented, the greens ran well and the company was excellent – shame about the result."

Marlborough mixed bag…..
Seniors vs Marlborough (Away)
Our aged heroes resumed their summer fixtures with Marlborough with a mixed bag of golfing performances.

High points were delivered by Messrs Walker and Armitage whilst low points arrived courtesy of Messrs Lewsey and Webb and particularly Reseigh and Gaskill (though it must be pointed out that the latter did play to his handicap!).

Thanks largely to our last minute volunteers, DG seniors drew the match with Marlborough and everyone who played had a very enjoyable time. Importantly, all were very pleased that the regular summer fixture between the two clubs had been re-instated.

Well done team – good job.

Ed
Seniors see off Sherfield Oaks
M4 league - Summer KO
Amidst sunshine and showers yesterday, our aged heroes won their first M4 summer KO match against a strong team from Sherfield Oaks.

It was a hard fought match which finished 2-2 and so it meant extra holes for Andy Woodley and 'occassional' senior, Graham Attridge.

Our plucky pair won the second of the play off holes to secure the victory so it's onwards and upwards (or is it forwards?). Whatever the direction – its definitely a case of – Well done team!

Ed
Seniors Bow at the Temple
Seniors vs Temple (Away)
On a glorious day our brave lads went forth to the Temple Golf Club.

Spirits were high as the first 2 pairs came in as winners. Rob Carvill, maintaining his unbeaten season in all teams then John Rance and Mark Ottaway held off the opposition down the 18th. Unfortunately the joy was short-lived as the following 4 pairs were all vanquished.

The final score a 4:2 loss.

The course was beautiful, the company entertaining and the food delicious, so a good day was had by all.
Honourable Draw for Seniors
Sherfield Seniors Home 13th May
On a fabulous day, the red shirted warriors had two members playing their first match, Philip Caulfield and Chris Webb. They acquitted themselves very well and are welcome additions to the team.
They were part of a titanic struggle with the equally red shirted Sherfield Seniors.

The first 3 matches went down to the 18th hole. Unfortunately 2 went against us but we won 2 of the last 3 for an honourable draw. 3-3.

The visitors were very complimentary about the condition of the course and the food.

We look forward to meeting them at home again in 2 weeks time in the M4 Summer KO.
Our brave boys bashed at Badgemore
Seniors Away at Badgemore 9th May
The weather forecast said "Sunshine and showers" and that's exactly what we got, both literally and metaphorically with a few results to smile about and a few more dampening our collective spirit.

The course was in great condition and with two new bunkers under construction, it should be even better next year. They're always a friendly bunch at Badgemore and today was no exception.
The grub was exactly that – proper grub with steak and ale pie and apple crumble. Yum.

And the result? Well we pushed them hard but to quite hard enough with Badgemore running out winners by the closest of margins – 3.5 to 2.5.
Mill Ride at DG - 7th May
Postponement
This match has been postponed and will now take place on 12th August.
Please visit the Availability Spreadsheet to confirm your availability.
Seniors Away Defeat to Sandford Springs
The Seniors suffered their first defeat of the Summer League away to Sandford Springs. On an excellent day for golf a strong Donnington team were beaten in a hard fought match by worthy opponents by 4-2. Commiserations to Chris Armitage and Tom Reseigh who were emphatic victors but to no avail
THE SPRINGS SPRUNG UPON...
SENIORS v THE SPRINGS 25/4/19 AT DG
With Spring upon us, the Springs Seniors found themselves truly sprung upon on Thursday 25th – as our aged heroes chalked up an impressive 6-0 victory.
Every one of our seniors pairs played well but notable wins were recorded by Messrs Ravenhall & Skelly and Griffin & Purvis. Geordie Jim is shortly moving north (well as far as the Midlands anyway) and DG Seniors will miss his golfing prowess and even his renowned grumpiness! We all wish Jim and Sarah well in their new home and golf club.
Despite the result – our guests (who are splendid chaps) had a really enjoyable day and whilst they may have left with their tails between their legs – they all had smiles on their faces.
Well done team.
SENIORS v WEYBROOK PARK 23/4/19 AT DG
Our match with Weybrook Park was played in excellent conditions, with the ball running on both the fairways and the greens.
Catering was great.
Company was stimulating.
Shame about the result. Weybrook won four and half to one and a half.
We must (hope to) avenge this defeat at our return match on 6th June
Heavy Defeat for Seniors against Mill Ride
The Seniors fell to an unaccustomed heavy defeat (5-1) in their away fixture to Mill Ride on Wednesday 17th April. No excuses as on the day the opposition were just the better side and big thanks to Peter Drummond and Barry Lancaster for ensuring it was not a whitewash! This was a new fixture on an excellent course and in terrific weather and we need to improve when we meet them at home on 7th May.
Another fine win for the Seniors
A lovely sunny day, a golf course in great condition, a bunch of nice visitors from Badgemore Park and a convivial meal to follow. What could be better? Well, perhaps a victory for the Captain of the Day, that's what!

No matter though. The strength of the squad shone through with the only defeat being suffered by yours truly. Three wins and two halved matches saw the DG boys through by a 4-2 margin. I'm so glad this is a team game.

Off to the practice grounds now.

DL
Seniors Home Match versus Manor House
The Seniors had a very entertaining home friendly against Manor House with all matches, barring one, going to the last hole. A special mention for Barry Lancaster and Alan Weddell who were playing their first match and a long awaited return for Russ Castle. We hope you all enjoyed yourselves.
Seniors Home Match vs Wokefield Estates
Our intrepid seniors had a resounding home victory against Wokefield (5-1) in their first match of the summer season ensuring a strong start to their defence of the Three Counties Seniors Summer League. The course and the weather were pleasures to enjoy and a good afternoon was spent with our good friends from Wokefield."